What I Learned By Embracing French Guy Style
Have you ever been in a fashion rut? The kind where you look into your overflowing closet and all of your clothes fail to spark any sense of joy? That's been me for the past few weeks. Feeling uninspired by my specific array of clothing (I've been on a real 1970s kick lately), I've been wanting to switch up my style vibe and try out something new for the spring. Because if anything can reignite my love of dressing up, it's a fashion challenge.
When thinking of what my current wardrobe lacks, one word instantly came to mind: Minimalism. Do I have a heavy rotation of loud, printed shirts? Check! But for spring, I've been enticed by the idea of paring things back, and slipping into a more quietly-luxurious look. The same vibe as The Row, but since I am not an Olsen twin, I need a more realistic style inspiration. A quick brainstorm later, I had an a-ha! moment: Who does minimalism better than the French?
French men have more of an effortless-cool vibe than my closet currently does. Their clothes are subtle, and make you lean in a little closer to notice the finer details. Luckily, there are tons of stylish French men who are totally nailing this idea right now who I can look to for guidance for my fashion challenge. Below, I replicated four noteworthy ensembles from stylish French guys like Sébastien Tellier, Stéphane Bak, Vincent Cassel, and Eddy de Pretto. What did I learn from riffing on their distinctive style? You'll just have to find out below.
Whenever I wear a dressier blazer (like this pinstriped, double-breasted style by Indigenous artist Justine Woods), I tend to wear it with black dress pants and dress shoes. Too obvious! As Sébastien Tellier has shown, you can also dress down an uptown jacket with light-blue jeans and a baseball cap, and it still looks totally polished. I can envision myself wearing this to Sunday brunch, or even to the office. It's effortlessly snazzy without being too try-hard.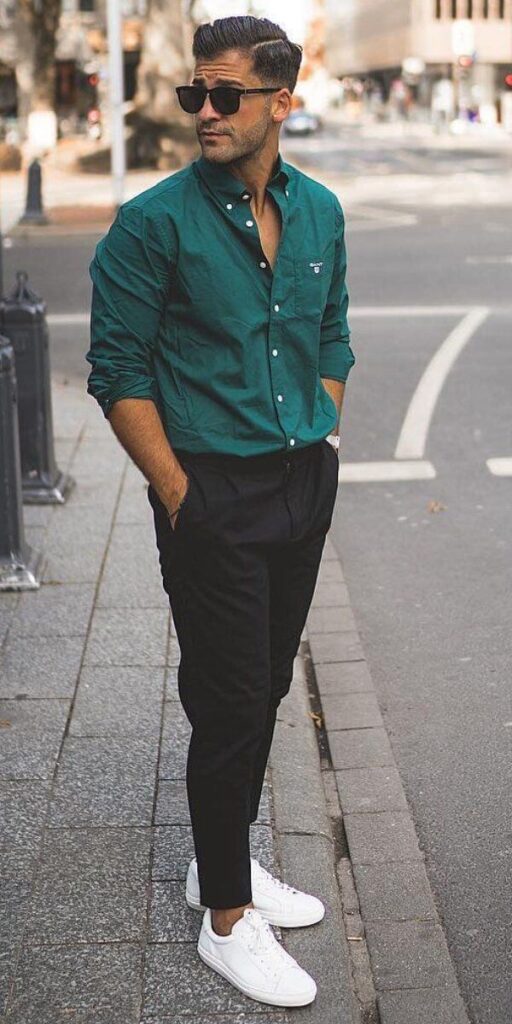 Vincent Cassel's refined knitwear
I never would have thought that black pants and a turtleneck can be a fashion statement on its own, but Vincent Cassel's ensemble here has shown me that it can be. I love the unexpected hue of his purple ribbed knit, paired with dressy boots and killer sunglasses. For my own take, I pulled out a vintage Jil Sander turtleneck (Raf Simons era!) in bright pink and orange. I admit, I've been struggling with how to style this piece, but letting it shine on its own, like a French guy, is clearly the right move. Merci, Vincent!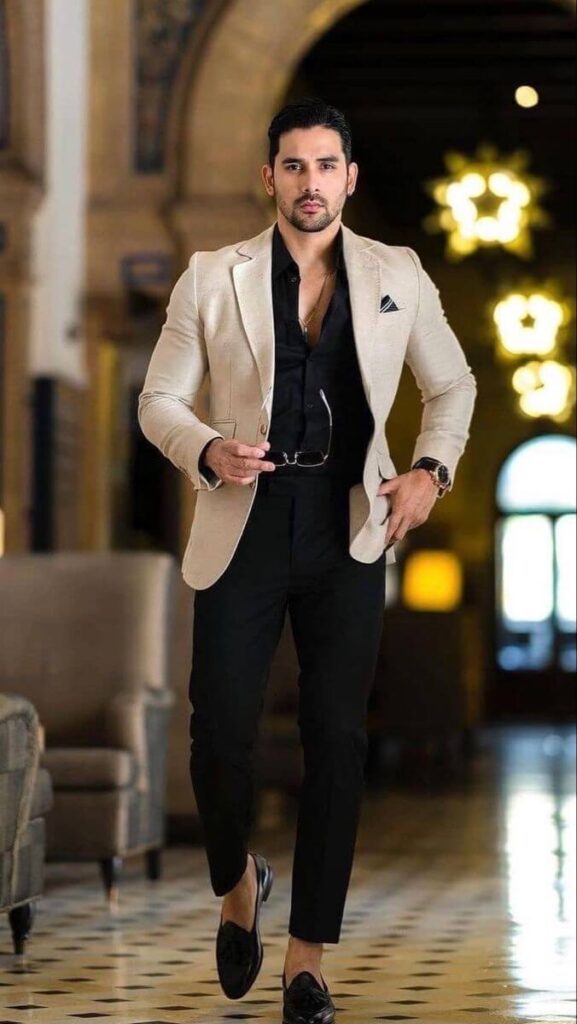 Stéphane Bak's take on head-to-toe black
As a New Yorker, I'm no stranger to wearing all-black. But Stéphane Bak takes monochromatic dressing to another level, thanks to his outfits' interesting proportions and play on textures. I recreated this vibe by mixing one of my sportier puffer coats (by Everlane) with a pair of Eytys leather pants and my go-to Indigenous Enterprise hoodie. The end result? A totally cool, on-the-go look for every day. Clearly, wearing all-black doesn't have to be boring.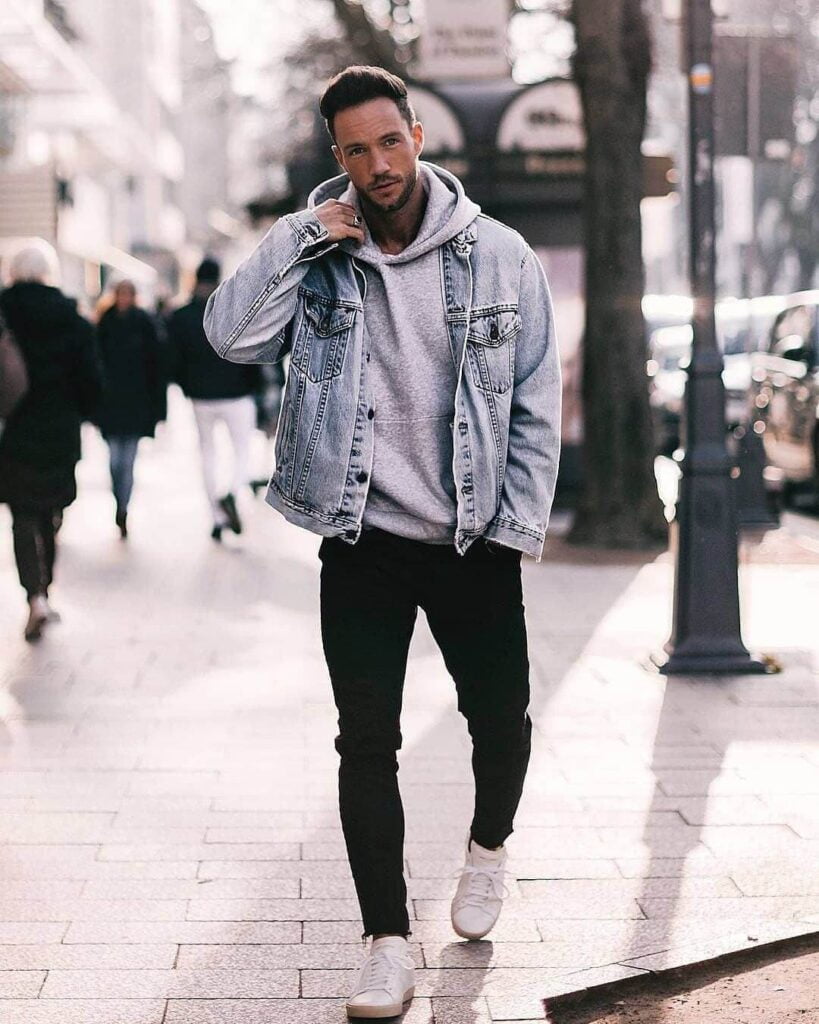 Eddy de Pretto's polished double-denim
Wearing double denim is often called a Canadian Tuxedo or Texas Tuxedo—but even the French love to pile on jeans. Eddy de Pretto's approach is totally more whimsical though, thanks to the bucket hat, striped shirt, and low-top sneakers. I re-created it with my most-worn Levi's jeans and an A.P.C. jacket, paired with a Dhruv Kapoor shirt and my new Wales Bonner x Adidas kicks. As a denim obsessee, I will be wearing this look all spring long. C'est bien sûr!
Turns out, this experience is really a master class in pared-back dressing. These stars have taught me that your closet's seemingly-simple pieces can in fact be very interesting, if you offset them with more unexpected pairings. Jeans—tons of jeans—are a French staple, and that works for me this spring, given it's my most-purchased item. I'm also totally inspired to put aside my bold, brazen prints in favor of simpler garments that focus on silhouette or cuts. Looking into my closet now, I now see tons of new outfit possibilities. I feel inspired to dress up again. And no, I won't be wearing an expected beret or Breton stripes—but expect me to be looking especially slick in the days to come.